Delicis Legend Chinese Cuisine opens in Hewlett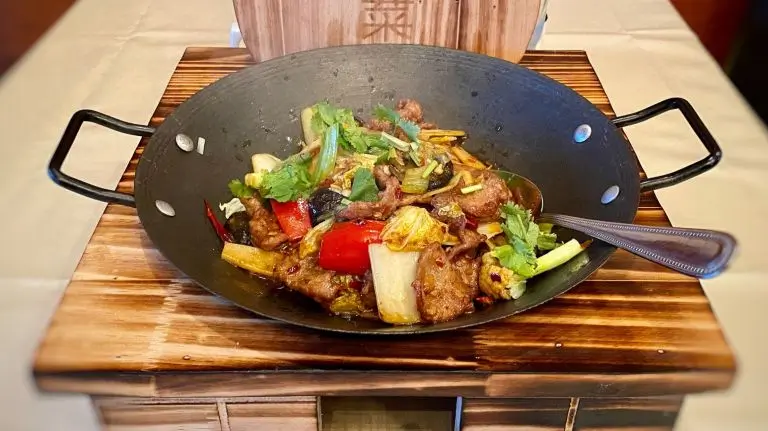 Spicy dry-pot lamb is one of the Sichuan dishes at Delicis Legend Chinese Cuisine in Hewlett. Credit: Newsday/Erica Marcus
By Erica Marcus
erica.marcus@newsday.com  @Erica_Marcus
While other quarters of Long Island are enjoying an efflorescence of Sichuan cuisine, Nassau's south shore sadly lags behind. Once you get south of Cheng Du in Franklin Square, there's nary a wonton in chili oil or mapo tofu to be found — this is the land of egg rolls and spare ribs.
So the opening of Delicis Legend Chinese Cuisine in Hewlett is cause for celebration. The spacious, attractive restaurant boasts dozens of authentic dishes from Sichuan province, along with other regional Chinese favorites, Chinese-American standards and a full bar.
For local Chinese food enthusiasts, however, the opening can also induce mild panic because the parking-challenged spot has housed a succession of short-lived ventures including Harbor Grill, Istanbul Grill and Bar and Mermaid.
That hasn't dissuaded owners Jacky Chen and his wife, Kelly Zhou. A computer engineer by trade, his dream has always been to open a restaurant. "I like to deal with people, make new friends," he said. "And I want to share our food with them."
"Our food" is the food of Sichuan province, whence come Chen and Zhou. Chen left Sichuan as a young man to pursue a master's degree in Canada. He moved to New York about eight years ago and, for the last few years, has been searching for a restaurant location. When he walked into 1230 Broadway in Hewlett, he "fell in love with the bar, with the dining room, with this layout." The restaurant opened in August.
When I dined at Delicis Legend last week, I brought along a friend from Long Beach who has long lamented the lack of good local Chinese food. Between her excitement and my curiosity, we ordered enough for six people. We began with two Sichuan starters, wontons in chili oil and sliced beef tendon in chili sauce; both excellent. A listless scallion pancake was the meal's only disappointment.
Chen recommended Sichuan spicy dry-pot lamb, a mélange of lamb, vegetables and hot peppers, which was served in a wok cradled by a little wooden hearth whose Sterno flame kept it hot. Fabulous. Fried two-sides noodles with beef, a Cantonese preparation, turned out to be a crisp nest of fried noodles topped with snow peas, sliced bamboo shoots and very tender chunks of beef. Baby bok choy with black mushrooms, from Shanghai, was very good, as was fried rice with egg and sweet Chinese sausage.
It should be noted that both of us managed to find places to park our cars.
Delicis Legend Chinese Cuisine is at 1230 Broadway, Hewlett, 516-299-8080, delicislegend.com.